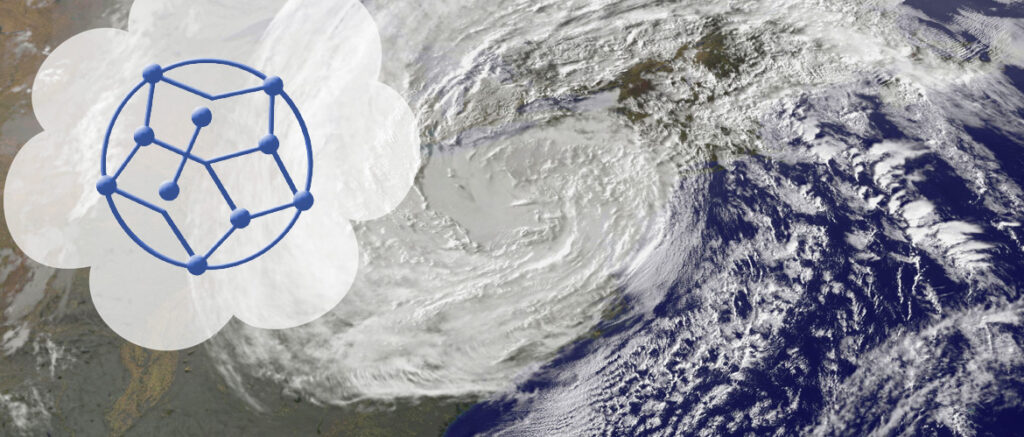 Based on seasons with similar climate conditions this year, we might expect
9-15 Named Storms,
4-8 Hurricanes and
2-4 Major Hurricanes
In 2012 Hurricane Sandy hit the East Coast and caused damages amounting to $65 billion. Since then, hurricanes Maria, Harvey, and Katrina have incurred another $340 billion.
Impact On Business
The impact on business is not only the destruction of buildings and physical infrastructure but also the loss of communication channels and digital property. Business and customer data and are increasingly fundamental to business operations.
The Federal Emergency Management Agency (FEMA) estimates that 40 – 60% of small businesses permanently shut down after a natural disaster.
From Business News Daily in the aftermath of Sandy:
"Our research shows that loss of connectivity had a big impact on small business owners, which affected their ability to contact customers and keep their business open." says Ray Sprague, senior vice president of the Small Commercial insurance segment for The Harford, "We have found that small businesses who take the steps to prepare and protect the business, such as establishing emergency communication systems and backing up critical data, tend to be the ones that prevail after weather emergencies."
MCD, a digital marketing company thought they were prepared for Hurricane Sandy by stashing backup drives in a bank vault blocks away. They didn't anticipate that all of New York would be out of power and the bank would become inaccessible.
Moving Out Of The Neighborhood And Into The Cloud
At CipherSpace we advocate storing key resources in redundant highly secure data centers. One of our clients provides health and welfare benefits administration services. Data loss or interruptions in that service would negatively affect their many customers around the country. During Sandy, their PBX and communications were down and employees were unable to get to work as trees blocked the road.
However, instead of locating business servers in their New York headquarters, they manage their application services remotely through us in a Tier 4 data center that experienced no problems during the storm. As a result, they were able to keep their customers in service independently of the power outages and problems they experienced at their New York offices.
Since Sandy, they moved from PBX to hosted communications to avoid problems in the next outage.
Business As Usual
Another client of ours in New Jersey provides leading-edge price and promotion software to high profile customers in a global market, including the high-tech industry, beverage alcohol businesses, manufacturing, and life sciences businesses. They use our services to manage their subscription-based SaaS offerings. During Sandy, our client experienced power outages for days at their main office. But this had no impact on their ability to continue to provide services, keep their customer's highly sensitive data safe, and continue to offer support in the US, Europe, and Asia-Pacific.
Using our Infrastructure as a Service (IaaS), they continued to run their billing, accounting, marketing, and sales departments. Workers from multiple locations and across continents were able to connect to the company's data and respond to their customers.
Cloud Safe Harbors
We're not likely to see these weather threats go away. Some models predict a greater intensity of storms with increasing temperatures.
Cloud services have continued to improve since the days of Hurricane Sandy and, with increasing adoption of managed infrastructure services, we can look forward to more small businesses weathering these storms.
Resources For Preparing Your Business For A Hurricane
Federal Emergency Management Agency (FEMA) – Protecting Your Business
National Hurricane Survival Initiative (NHSI)- Business Checklist