No, it's not a joke. Many companies have their servers in-house in the weirdest places one can imagine. And by the way, housing your servers in your closet does not mean your data is safe or that, in case of downtime, your data recovery will be quick and fast.
On the contrary, having your servers in the closets exposes you to various unforeseen risks that you might not imagine. Placing your servers in a data center provides the right protection for your equipment and data in an unprecedented way. Read more about CipherSpace Colocation services and the unique value proposition and benefits we offer to our clients.
Colocation refers to the practice of housing your servers and devices in a professional data center in order to access economies of scale, advanced infrastructure, greater bandwidth, lower latency, specialist services and systems, constant security, and a whole host of additional advantages. As technologies become more extensive and sophisticated,
the option of constructing or adding on to a proprietary, private datacenter becomes commercially and practically nonfeasible. CipherSpace offers colocation services at state-of-the-art facilities in 3 major cities across North America.
What Are CipherSpace Colocation Services?
Colocation services are offered by CipherSpace at its datacenters equipped and configured to allow clients secure access to private servers. We believe that providing flexibility is a key element of colocation services. We allow our clients to choose a bespoke build that allows them to personalize their colocation plans in order to decide which aspects of their system they want to focus on. We have a range of different facilities options to offer, allowing our clients to choose the infrastructure that best suits them and their budget.
CipherSpace colocation services include provisioning the leasing of server cabinets and cages, connecting to a preferred ISP's physical network infrastructure, and providing monitored server status.
Each cabinet and cage is securely locked and inaccessible to other colocation clients. The hardware is administered by the client independently without our involvement, except manual server restarts upon request.
CipherSpace colocation services let our clients take advantage of our superior data center infrastructure, while at the same time maintaining control over their servers.
CipherSpace colocation services are an effective way to obtain business continuity, scalability, and minimal network latency at a fraction of the cost of maintaining your own in-house private datacenter. At the same time, you always maintain complete control over the physical server, the operating system, and the applications.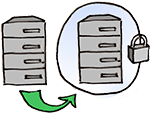 Want to get your feet wet slowly? Contact CipherSpace about housing your IT expansion offsite.
Availability, Efficiency and Scalability
Have your computing needs shot up overnight? Are you expecting a seasonal increase or decrease? Instead of fire fighting at the last minute, to hire or fire new staff or purchase more equipment to handle it yourself, give CipherSpace a call and scale your service up or down as needed. Our offerings are bespoke according to your needs and budget.
Connectivity
We believe in Green power without compromising quality. Your servers are in environmentally friendly climate-controlled data centers, with high bandwidth speeds, and excellent redundancy for network connections. You do not have to pay the costs to purchase and maintain this kind of IT infrastructure in your own offices, and your internal IT staff can focus on other business operations.
Security
Your servers are housed in secure data centers, with security measures that include biometric scanners, closed-circuit cameras, on-site security, coded access, alarm systems, and much more. With CipherSpace, you don't have to hire or purchase any of these security measures yourself it's all included in your service plan.
Business Stability
We guarantee you peace of mind all the time. If you have to move offices or are hit with a power outage or natural disaster, rest assured you won't have to worry about your data or services going down. CipherSpace has multiple backup generators and contingencies in place to ensure that there is never an interruption in service, for you, or for any of your customers.
Predictability
We strive on providing you with a crystal clear predictive overview of your costs. We have no hidden charges. CipherSpace believes in transparency upfront. Our pricing is crystal clear, straightforward, all-inclusive, and predictable from the beginning. Rest assured there will be NO additional charges based on variable usage (e.g. bandwidth, data transfer, etc.). In addition, we offer our clients flexible payment options on a monthly, quarterly, or annual basis. No Surprises and No Hidden costs.