Read this now to learn about What is Office 365 and why you should migrate to Office 365
"Coming together is a beginning. Keeping together is progress. Working together is success."

— Henry Ford
What is Office 365 and Why You Should Migrate
What Is Office 365 and What Are Its Benefits to Users?
Office 365 is the Complete Productivity Solution from Microsoft Designed for Small Business. Emails, Word, Excel, PowerPoint, and Collaboration: Boost your Team's productivity with Office 365.
---
It is Email and Calendaring
50 GB Mailbox – For every user
Access business emails from anywhere / anytime / any device – Phones, laptops, tablets, desktops, and web clients that maintain your email and user experience across all devices.
Maintain Calendars and schedule meetings with ease – Effortless collaboration to keep your business growing.
Shared Calendars – Manage time and improve productivity within your team.
Resource Management – Create and reserve resources like Audio Privacy Rooms, Conference Rooms, and Electric Vehicle Charging Stations.
It is Teamwork and Communication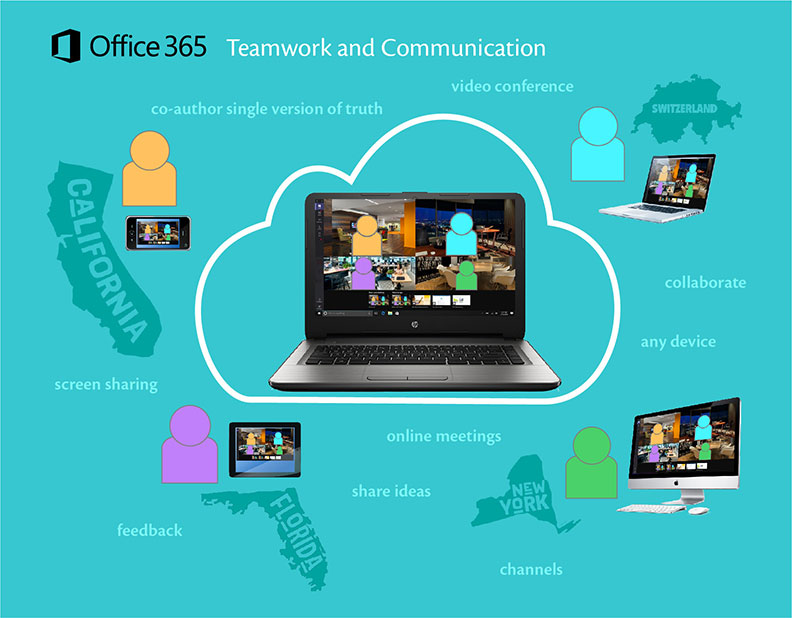 Microsoft Teams – For hosting online meetings and video calls.
Screen sharing – Share ideas, get feedback, collaborate, be a true team.
Channels – To instantly connect and exchange thoughts with your team, no matter where they are or which device they are using.
It is Microsoft Office Applications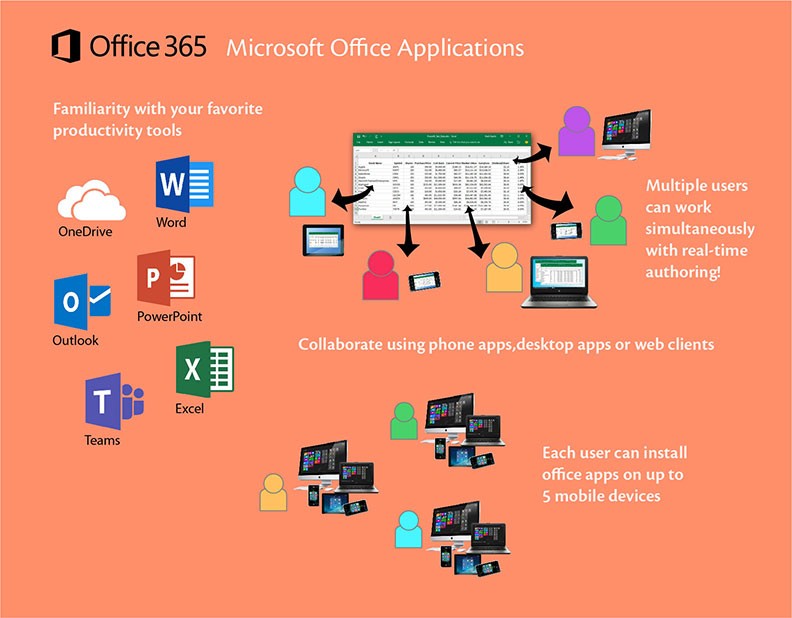 Familiarity and excellence of your favorite productivity tools like Word, Excel, PowerPoint, Outlook, and more.
Each user can install the Office apps on up to 5 mobile devices like phones and tablets.
Create and collaborate on your documents, promotional materials, spreadsheets, presentations, charts, and graphs – using phone apps, desktop apps, or web clients.
Now multiple users can work on the same documents simultaneously with real-time co-authoring.
It is Secure File Storage and Sharing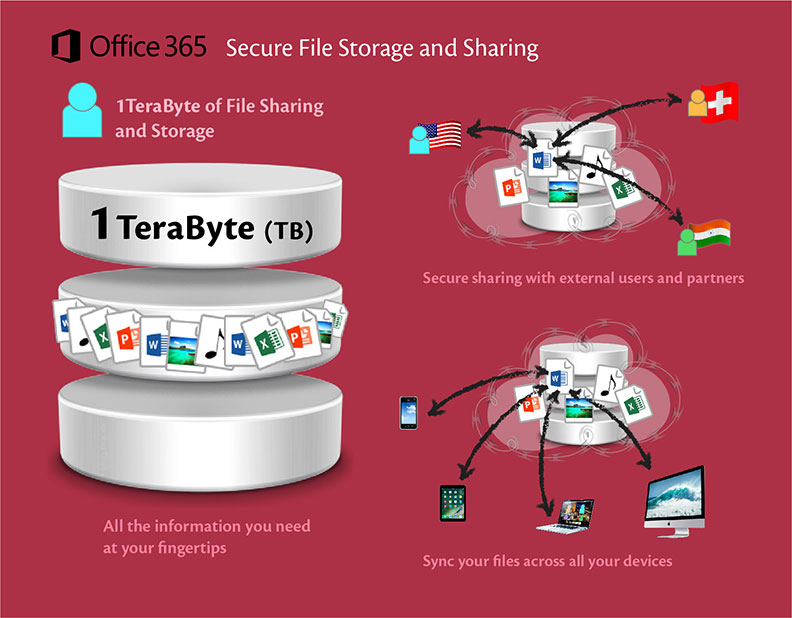 1 TeraByte (TB) – Yes, that is right, 1000 GB of file storage for sharing.
All information you need at your fingertips – With files saved on OneDrive and accessible from anywhere.
Share files securely with external users and partners.
Access and Sync your files across mobile devices and PC, or Mac.
Why a Business Like Yours Should Consider Office 365?
Because it will bring in productivity gains

Office 365 Is a completely integrated collaboration platform. Imagine where your business can be, when you and your team members are always on the same page, making effective and efficient decisions.

Proven Cost efficiencies

You only pay for licenses you use, for the time period you use. This means no more buying software and hardware for future needs. You can scale up or down easily and effortlessly as your business groups.
With the core email services, shared data, and collaboration tools migrated to the cloud, there is no more need to invest in In-house IT resources. No more sunk costs!
For being on the cutting edge of technology, always

With Office365 you are guaranteed to have the latest version of Office products and access to the latest innovations as soon as they are made available.

Give a competitive edge to your business with Digital Transformation

At the base of any digitally-driven business that aims to disrupt its market or outsmart its challengers, there is a robust and innovative collaboration platform that empowers its people to communicate effectively and efficiently.
Office 365 enables these digitally-driven process improvements that will fundamentally change the way your people operate and deliver results that matter.
Why a Business Like Yours Should Consider Office 365?
Migration to Office 365 is a 3 stage process with 3 'core' steps in each stage.
Pre-Migration
Collect data about the existing setup
Confirm the migration model
Prepare a migration checklist
3-Step Migration Process
Migrate User Accounts
Migrate Mailbox
Migrate Data
Post Migration
Verification emails to new mailboxes
Data verification – Emails, shared mailboxes, and data to OneDirve for Business
Office 365 training
---

CipherSpace provides Reliable Office 365 migration services supported by expertise and experience to ensure that
there is no downtime for your business.
---
For more information on Office 365, check out these useful videos from Microsoft.
For more information on Office 365, check out these useful videos from Microsoft.