Managed Cloud Services for Startups and Entrepreneurs
The Challenge for Startups and Entrepreneurs
Startups and Entrepreneurs often have a limited budget, bandwidth, and resources. You rely on the flexibility of cloud services but find you are spending precious time managing these services yourself.
You don't want to look through pages of cloud offerings to decipher what you need but you also don't want to get locked into a relationship with a vendor.
CipherSpace understands you're working on a budget at a fast pace with pivoting needs. With years of networking experience, we can create the best setup for your situation and grow it with you. Instead of researching various cloud offerings, or keeping track of expiring free trials, pick up the phone, or shoot us an email telling us a little about yourself.
Our goal is to help you stay lean and focused by paying attention to and optimizing your technology needs. When you work with CipherSpace you inherit a team of clever engineers at your beck and call. That's peace of mind.
How We Helped a Business Like Yours
A Successful Startup
scrible is a startup focused on engaging students, educators, and professionals with its modern research platform. With increased activity post-launch, they quickly recognized the need to architect their deployment infrastructure to ensure the availability, scalability, and performance of our platform.
The Challenge
scrible thrives in the startup culture and has a tech team that continuously challenges itself by questioning and improving their development and deployment architecture. In their early evaluation, they realized that amazon web services (AWS) didn't provide adequate flexibility along with predictable performance needed to reconfigure their deployment infrastructure [that can] to keep pace with their evolving architecture. They needed the ability to custom-configure and re-purpose computing resources to align with their technology and business growth.
What we did
CipherSpace acknowledged the necessity of a cloud deployment construct that would guarantee performance and allow scrible's tech team to experiment with various deployment architectures to optimize resource utilization.
We suggested a Private virtual Data Center (PvDC), a dedicated single data center virtualization platform that assured scrible the performance they needed and provided the flexibility to re-purpose available resource pool of CPU cores, memory and storage any time they needed without adding any additional cost.
CipherSpace worked with scrible's team to empower them with a mix of a self-service cloud and monitoring of critical production services to give them the flexibility they desired.
Business impact:
Fixed and predictable spending on Enterprise Cloud
Empowered technical team
Faster time-to-market for new features
---
How We Scale Your Services, Not Your Costs (only 3 min)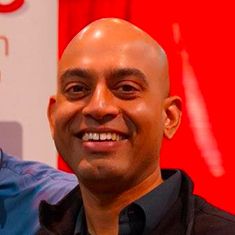 Hear what Victor Karkar,
Co-Founder and Chief Executive Officer of scrible has to say about working with us:
"Private virtual Data Center from CipherSpace provided flexibility to tune our VM sizes to adjust to our growing workload. The ability to spin-up resources and deploy them as a load balancer, Virtual router, VPN concentrator, and DB servers of varying configurations without adding cost makes CipherSpace Infrastructure Services a good fit for early-stage ventures like us. They've been flexible, responsive, and easy to work with. They've been a great partner to us."
Get Started!
Contact Us Today
Private virtual Data Center: Data Center class security for your infrastructure in your own private environment.
Complete control over virtual machine sizes and configuration
Guaranteed CPU allocation to deliver the desired performance
No additional charges for VPN, virtual router and load balancer appliances
Multiple environments under a single administrative unit
Security Best Practices: Out-of-the-box implementation of best practices to secure PvDC
Custom configured ACLs for hosts and networks
Hardened and secure operating systems deployment
Network-level separation and security for critical information assets
Managed by CipherSpace: virtual Data Center managed and maintained by a highly motivated 24×7 support team.